[caption "The Joy of Tech - click on the image to view the full cartoon"]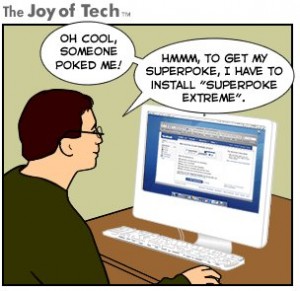 [/caption]
Does this post look familiar to you? Well it's that time of year again when the CEO and founder of Facebook stands up and apologizes for the company's privacy transgressions and promises not to do it again :-)
This year Facebook is battling congress about how much Russian coin it took in that was used to possibly nudge the elections in the Donald's favor. At first Zuckerberg denied this was even a thing but has now used his social media platform and apologized.
"For the ways my work was used to divide people rather than bring us together, I ask for forgiveness and I will work to do better."
He didn't specify what his mea culpa was all about, but this comes at at a time when there is mounting evidence that Russians used Facebook to spread propaganda and influence voters in favor of the Donald and against the Hilary.
Real life can be far stranger than fiction.
Just remember folks this is an annual event - you can see other events that I wrote about /notebook/the-zuckerberg-conundrum-a- facebook-apology/ and /notebook/return-of-the-annual-zuckerberg-conundrum-and-facebook-mea-culpa