[caption "The Joy of Tech - click on the image to view the full cartoon"]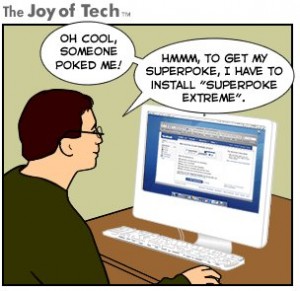 [/caption]
Does this post look familiar to you? Well it's that time of year again when the CEO and founder of Facebook stands up and apologizes for the company's privacy transgressions and promises not to do it again. As I noted last year, it must be tough being CEO of one of the largest internet properties around and still have to prepare a sincere heartfelt apology each year.
In case you've been on top of a mountain or something. it's just come to light that Facebook hired a PR firm to conduct a smear campaign against Google and its lack of concern for user privacy. To summarize what sounds like a bad grade B movie plot:
PR Flack firm Burson last week stepped up a whisper campaign to get top-tier media outlets, including USA TODAY, to run news stories and editorials about how an obscure Google Gmail feature —Social Circle— ostensibly tramples the privacy of millions of Americans and violates federal fair trade rules. USA Today broke that news http://www.usatoday.com/money/media/2011-05-06-google_n.htm and then an internet outfit "The Daily Beast" discovered that it's a company nobody suspected—Facebook. http://www.thedailybeast.com/blogs-and-stories/2011-05-12/facebook-busted-in-clumsy-smear-attempt-on-google/?cid=topic:mostrecent1# Confronted with evidence, a Facebook spokesman last night confirmed that Facebook hired Burson, citing two reasons: first, it believes Google is doing some things in social networking that raise privacy concerns; second, and perhaps more important, Facebook resents Google's attempts to use Facebook data in its own social-networking service.

Holy Moley Batman - this year's Zuckerberg Conundrum needs asbestos gloves to handle.
We should be seeing the Zuckerberg Mea Culpa in about another week - just remember folks this is an annual event - you can see last years winning entry here /notebook/2010/the-zuckerberg-conundrum-a- facebook-apology/ and be sure to vote (in the comments section) for this years winner.