If you are a New York resident and looking for a job in New York these days you may have run across the Workforce New York site run out of the NYS Department of Labor. The Workforce New York locations actually have some excellent workshops and facilities for job hunters that are well worth taking advantage of, however, you need to be very careful when using their Smart 2010 job lead services. When you work with one of the counselors and provide a resume it gets entered into their SMART system to provide you (via email) with automated job matches that the system finds. It does not appear that Dept. of Labor or the SMART system, screens potential employers or job opportunities very well (if at all) and you may get taken in by some of the less than stellar sites out there.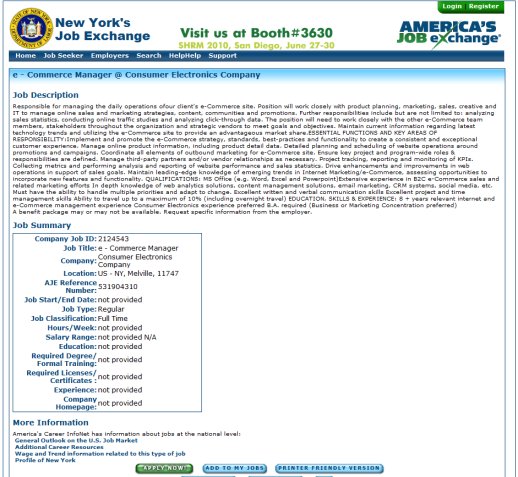 The images on this post are from the New York Job Exchange Site, that you are directed to from one of the Smart 2010 job matches. In this example, an e-commerce manager position from a local company - not a bad match. If you click on the "APPLY NOW" job link you end up on another New York Job Exchange page.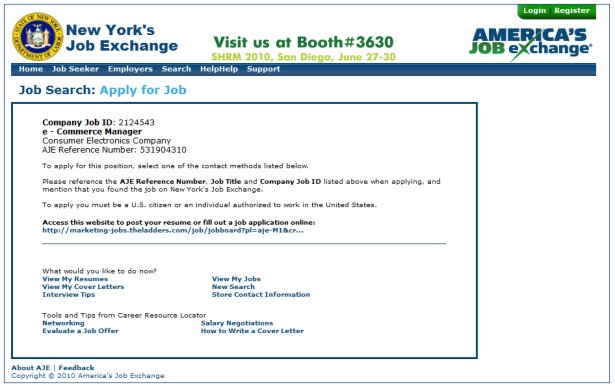 If you were to look closely at the "access the website to apply" link before clicking, you will see that it leads to one of the sites with a less than stellar reputation for job seekers: TheLadders, or one of the dozen or so differently named sites that TheLadders uses when it doesn't want to use the "Ladders" name. You can Google "theLadders" and "scam" to see a lot of other comments on the net about this outfit.
Next, look up the company on the New York Better Business Bureau site - it is not an accredited Better Business company (not a surprise) but the BBB still rates sites that come to its attention and theLadders is rated as a "B" due to the number of complaints against the company - not good!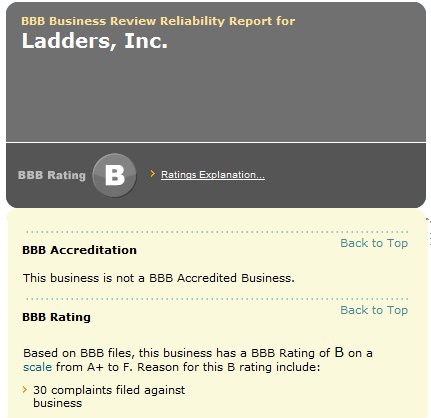 So what's wrong with this? Well for one thing the New York Job Exchange listing should be sending you to real employers that are looking to hire not to sign up pages for companies like the Ladders where you cannot directly apply to the job. You must sign up with the Ladders, give them your resume and hope that they will submit your application to the employer if it meets with their approval (again, so why is this job posted with the New York Job Exchange). If you still think it's a good idea to give them your resume then you might also want to carefully think about the 'opportunity' to join the Ladders at $30.00 per month or the 'free resume review' and subsequent pressure to pay for resume services (anywhere from $1,000 to $3,000) to fix your completely messed up excuse of a resume..
I am not sure why the New York Job Exchange/workforce New York is still working with this company - I have reported them for deceptive job postings before (and gotten what I guess is a standard NYS form letter response) but as long as New York Job Exchange keeps them on their site then prospective job seekers need to be careful even if the job lead comes from the NY Department of Labor.