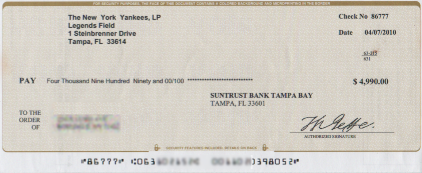 We read all the time about investment fraud, internet phishing schemes, identity theft and other scams and usually it happens to other people but occasionally it hits closer to home.
This is a departure from my usual posts and I am putting it online just so that if anyone searches for any of this information they will realize, hopefully before they get taken, that they are being scammed. My mother got this letter in the mail and at least she is now listening to her sons and not responding to every pitch that comes into her mailbox so she showed this to me.
I have scanned the letter and check so that you can see the details. You can click on the images to enlarge them but essentially the scam says that she has won $450,000.00 and that enclosed is a check (made out in her name and with her address) for $4990.00 to cover Canadian taxes of $4500.00 which must be wired before payment can be made. So the scenario is as follows:
American Family Publishing sweepstakes win.
Canadian Taxes must be paid (on an American Publishing Sweepstakes win).
The notification is from a (supposedly) U.K. company First Security Corporation PLC (and U.K address).
The check to be deposited is from the New York Yankees and a Florida Bank (don't ask how the Yankees got involved).
The Contact Agent is in the U.S (an 866 number).
The Wire Transfer (to supposedly pay for Canadian taxes) is going to a U.K destination.
Yeah that all looks amazingly legitimate so far:
Of course, the way the scam works is that once you deposit that $4990.00 check (which is phony and/or stolen) you are now out-of-pocket for your banks bounced check fee even if the bank doesn't come after you for handling stolen checks. If you proceeded to withdraw and send $4500.00 via Western Union anywhere then you are out of that money too because the wire transfer of your money is real and can't be reversed whereas the deposited check can be, and will be reversed by your bank in days or even weeks after the deposit has been made and the check supposedly cleared. By the way the $4990.00 figure is not accidental, that amount is just under the (usual) $5,000.00 radar where a bank teller generally has to get a Supervisor's approval for deposit and additional verification must be made, verification tests that might immediately expose that check as phony or stolen.
So if a Steve Crouch at 1-866-890-005 is sending you money - maybe you should just tear up the check and in the words of the old "Hill Street Blues" TV show: "Be careful out there".