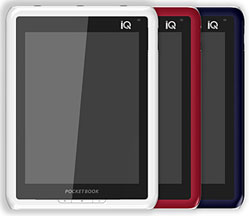 I bought a Pocketbook IQ over the holidays and have already used it to read a Repairman Jack book, Fatal Error, and a couple of graphic novels (comic books to the uninitiated). I needed to replace my Sony E-reader which went walk-about sometime in October. I was also looking forward to trying out the color capabilities of the newer devices since that meant that I could actually read standard CBR and CBZ formatted media in color.
I was strongly considering the Archos devices because they were getting all of the press but at the end-of-the-day, Archos was all talk and no product. When I heard good things about the PocketBook IQ and also that I could almost by two of them for the price of one Archos device, I immediately ordered the unit from Pocketbook.
The Pocketbook IQ comes with software for reading and downloading ebooks from their Bookland.net e-book store and, which is unusual for low cost tablets, an ability to install 3rd party Android applications. You can't directly install from the Android app store but that is a Google App Market store restriction for any non-phone Android device, and if you really want to you can install App Market on your own as well.
The PocketBook IQ shares some lineage with the Pandigital Novel device and the Cruz tablet but the PocketBook is a much more solid device with a metal, instead of plastic, case. Since the PocketBook IQ can install apps, it isn't limited to just e-reading. There are apps for just about everything: you can send and receive email, use it as a calendar and day planner, browse the internet, download and send files, use Google Maps, get news updates, setup slideshows, play videos, music, etc. Hardware wise, the unit comes with 2GB of memory, 256MB RAM, a full-size SD card, mini USB port, WiFi, two speakers, and headphone jack. The lack of an SD card slot and USB were the main reasons why an iPad was never even under consideration for me. The PocketBook IQ also has a 7" TFT LCD screen with a very nice resolution of 800 x 600.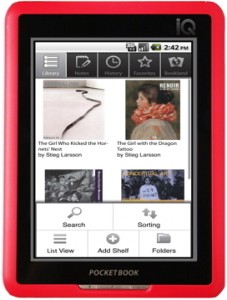 I almost didn't buy the unit because it has a resistive rather than capacitive touchscreen, but at the end-of the day that shouldn't make much, if any, difference to the kind of applications that I wanted to run (ebooks, cbr's, web browsing, audio, video) and I'm glad that I did buy it - the resistive touchscreen is quite responsive although I find that I need to use a fingernail rather than a finger, for scrolling, which is where a capacitive screen would be smoother.
I'm not going to go into detail about installing apps other than to say that you can do this out-of-the-box, there is no need to run special tricks to get 'root' access or somehow get around restrictions imposed by the manufacturer, which is common to a lot of other low-cost er-eader tablets. My own Technology Notebook App (see download link in the sidebar) installed (and works) just fine on the PocketBook IQ. PocketBook even provides some applications to make finding and installing 3rd party applications easier. The 256meg of ram on the PocketBook is an issue in that it limits the number of apps that can be installed. Currently I have installed:
LauncherPro, ACV, Startup Manager, RocketPlayer, Kindle, Aldiko, Technology Notebook, Newsrob, Dolphin HD Browser, Youtube Video Player
I installed LauncherPro, to get rid of the rather annoying 'welcome message screen' that shows up every time you startup the device, it didn't work for that but it is, regardless, an excellent app launcher and it has nicer Wallpaper images that you can use as a backdrop. I also briefly installed z4root to get root access, again to get rid of the welcome screen but without success. Z4root did work and I did get root access, but it ends up using up so much of the available memory that you have to make a choice between gaining root access OR installing other applications. So, Z4root (while it does work) is gone. Thanks to the fact that the Pocketbook IQ uses SD cards I can re-install any deleted application if there is room, within seconds.
I have been told that the memory issue will go away once the PocketBook IQ 701 is upgraded to the Android 2.2 release aka Froyo which will allow apps to use the SDcard memory space rather than the 256meg ram space. Until then I'm happy - the only (minor) negative thing that happens is that you are prompted to register the device at Bookland.net (the welcome and register screen popup when you power up the device) but the Bookland.net registration process is broken so the device never actually completes registration. I haven't found any downside to NOT being registered.
Oh yes the device is pre-populated with over 1,000 ebooks in several languages (about 300 of the books are English) to get you started. You can use the built in file manager to locate the books and delete the books written in languages that you have no interest in reading, potentially freeing up quite a bit of space. The PocketBook IQ 701 makes an excellent E-reader, as long as you make sure that the screen brightness is adjusted properly. I also changed the background color for e-books to light grey. Not only does it come with PocketBook's ereading app which is fine, particularly as a PDF reader. I have been using Aldiko for epubs and I also installed Kindle because I have a few Kindle books and ACV for graphic novels.
The PocketBook IQ 701 also makes a very nice internet tablet, couple with my Virgin Mobile Mifi, this makes a very useful personal electronic newspaper from which it is really very easy to catch up on the news in the morning with feeds from the New York Times and several web site RSS feeds that I receive. I installed the Newsrob app as my RSS reader. I use the built in email reader to access my Google mail.
I haven't played around with a lot of video, but the device is a little slow to play video well. The Youtube stuff looks and plays very well but a couple of TV shows and movies that I dropped onto the device were mixed. Pretty much any HD (720p or better) won't play - you may just hear the audio. In fact any video bigger than 640x480 and more than 800kbs bit rate is going to disappoint by not playing well or not playing at all. Video encoded as MP4 seems to play better than AVI and MPEG encoded formats but that may just be a codec issue as I don't think there is any hardware encoding support in the device. Still, I didn't buy this as a primary video player so I can live with the video shortcomings at least until I figure out the optimum video format and setup my home transcoding server with a Pocketbook IQ profile.
There is a lot more to the device than I have touched upon here - I have barely listened to music, for example, because I still carry and use my iPod Touch for music and audio books and that is probably not going to change anytime soon.